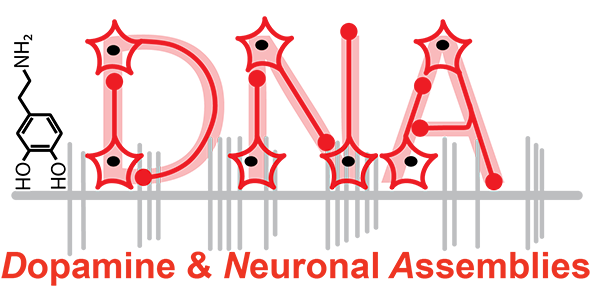 Team 3
Dopamine and neuronal assemblies
Team members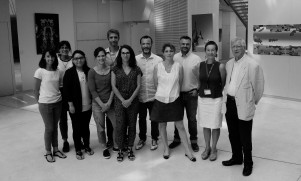 BAUFRETON Jérôme (Researcher) BIOULAC Bernard (Physician/Researcher Emeritus) COUSINEAU Jérémy (PhD Student) DELGADO ZABALZA Lorena (PhD Student) GEORGES François (Researcher) GLANGETAS CHristelle (Post-Doctoral Researcher) LE BON-JEGO Morgane (MCU) TAUPIGNON Anne (MCU) LEBOUC Margaux (Phd Student) BRAINE Anaëlle (Phd Student) PLATEAU Valentin (Phd Student)
Research subject
Our lab examines the neuronal mechanisms that control the synaptic and cellular function of the « extended basal ganglia network » (EBG). The EBG neuronal network is composed of an assembly of interconnected limbic and motor nuclei that are crucial for physiological functions (voluntary movements, associative learning, natural seeking and stress) and neurological and psychiatric disorders such as Parkinson's disease, addiction and anxiety. The brain structures, which compose the EBG, regulate dopamine neurons or use dopamine as a neurotransmitter. The circuit includes the dopamine-containing neurons of the ventral tegmental area (VTA) and substantia nigra pars compacta, the basal ganglia, the motor cortex, the bed nucleus of the stria terminalis (BNST), the tail of the VTA and the ventral subiculum.
The goal of our research is to provide the foundation for the rational development of therapies to treat the symptoms of dopamine-associated neurological and psychiatric disorders. We especially study how synaptic transmission and plasticity are controlled by dopamine within the EBG. Our research is developed around two aims:
To examine the neuronal mechanisms that controls the synaptic and cellular function of dopamine neurons.
To determine how dopamine changes the rules of neuronal communication in physiological and pathological conditions.
We study these cellular and circuit processes using multiple experimental approaches including ex vivo and in vivo electrophysiology combined with single-cell labeling, immunohistochemistry and neuronal tracing, neuropharmacology and viral mediated gene delivery including optogenetics.
Over the past, we identified cellular and synaptic alterations related to dopamine in the basal ganglia network and dysregulation of dopamine neurons excitability related to adaptations in the limbic circuit. Our group has recently contributed to demonstrate that:
other basal nuclei, in addition of the striatum, receive a functional dopaminergic innervation, suggesting that dopamine-dependent alterations within the extra-striatal network could also contribute to Parkinson's disease.
in vivo homeostatic plasticity in the BNST triggers hyperactivity in midbrain dopamine neuron and facilitates behavioral effect of cocaine. Thus, we have significantly contributed to demonstrate synaptic dysfunction in the basal ganglia and limbic network, in Parkinson's disease and drug addiction.
Research axes
Characterization of the anatomical organization and the molecular and neuronal diversity in the extended basal ganglia network.
Identification of the neuronal assemblies and the cellular mechanisms that control the intrinsic and synaptic properties of dopamine neurons.
Studying how dopamine controls neuronal excitability, synaptic plasticity and network oscillation within the extended basal ganglia network.
Definition of the cellular and molecular bases involved in deep brain stimulation therapeutic action.
Latest publications