Team 2
Dynamics of neuronal and vascular networks underlying memory processing
Team members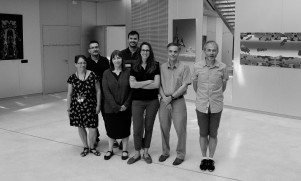 GROS Alexandra (post-doctoral research) FEVRE Murielle (engineering assistant) ANDELKOVIC Vojislav (technician) BONTEMPI Bruno (researcher) DUFFAU Céline (PhD student) HADZIBEGOVIC Senka (post-doctoral research) HAMBUCKEN Anne (engineering assistant) MOREL Jean-Luc (researcher) NICOLE Olivier ( researcher)
Contacts
For any further information, please contact Dr. Bruno BONTEMPI.
Lexicon
Phenotype: All the visible or measurable characteristics of an organism (anatomical, physiological, biochemical, behavioral) resulting from the interaction of the genes of this organism with its environment

Ischemic episode: Suffering of a cerebral area following an interruption of all or part of the blood circulation irrigating this area

NMDA receptor: A neuro-excitatory receptor present on the surface of nerve cells that plays a crucial role in learning and memory processes. It is activated by the neurotransmitter glutamate and the synthetic compound N-methyl D-aspartate (NMDA)

Cerebral vascular sphere: All the blood vessels (arteries, arterioles, veins) that irrigate the brain and ensure its metabolic feeding

Neuronal plasticity: A generic term for the ability of the brain to modify the architecture (connections between neurons), organization and functioning of its neuronal networks
Research subject
How are memory traces stored in the brain? Which are the brain structures that participate in the organization of recent and remote memories? What are the cellular and molecular mechanisms responsible for the changes in neuronal plasticity induced during the processes of encoding, storage and retrieval? These questions continue to fuel much debate in the field of Cognitive Neuroscience and constitute the primary focus of our team.
We wish to further elucidate the spatio-temporal evolution of memory traces and of their underlying cerebral support during memory processing and identify the mechanisms responsible for associated pathologies.
To this end, we have gathered complementary and multi-level expertise (from genes to functions) in behavioral testing procedures, functional brain imaging, confocal calcium imaging of cellular activity, tracking of second messenger production by fluorescent probes, biochemistry, electrophysiological recordings of large cerebral assemblies and molecular techniques.
By favoring not only vertical levels of analyses of learning and memory processes (from phenotype to molecular events), but also translational approaches (from preclinical research in rodents to the patient's bed), our research projects focus on unraveling some of the key mechanisms that govern the interactions between neuronal and vascular networks during memory processing in normal, physiological conditions. This first goal constitutes an essential stepping stone in further exploring how neuronal and vascular networks are reorganized and altered in the event of memory dysfunction, whether associated with normal aging and hypertension, or with more severe pathological conditions such as Alzheimer's disease, and ischemic stroke.
At the methodological level, our research projects involve the use of rats and several genetically-modified mice or intracerebral region-specific injections of synthetic amyloid beta peptides to model Alzheimer's disease and we benefit from non-human primate (macaque) and human brains (human brain bank). Translational approaches in the form of virtual environments in humans mimicking memory tasks used in rodents are also developed.
The team is an active member of the equipment of excellence project (EquipEx) OPTOPATH, a platform entirely dedicated to innovation in experimental psychopathology and devoted to optogenetic approaches in behaving rodents submitted to various behavioral paradigms.
Research axes
Experiential factors modulating the contribution of hippocampus and cortex to remote memory storage.
Differential contributions of NMDA receptor subunits to the formation and stabilization of enduring memories.
Functional contribution of the cerebral vascular sphere to memory formation and stabilization.
Cognitive rehabilitation after ischemic stroke and underlying neurobiological mechanisms (in collaboration with J. Liu, Brain and Spinal Injury Center (BASIC) of San Francisco, USA).
Decrypting the brain extracellular space using innovative optical nanoprobes (in collaboration with L. Cognet, LP2N – Institut d'Optique Graduate School, University of Bordeaux).
Effects of radiofrequency exposure in aged and Alzheimer's disease mice : combined behavioral and neurovascular sturdies (in collaboration with B. Veyret and I. Lagroye, IMS, University of Bordeaux, ANR project Read).
Latest publications